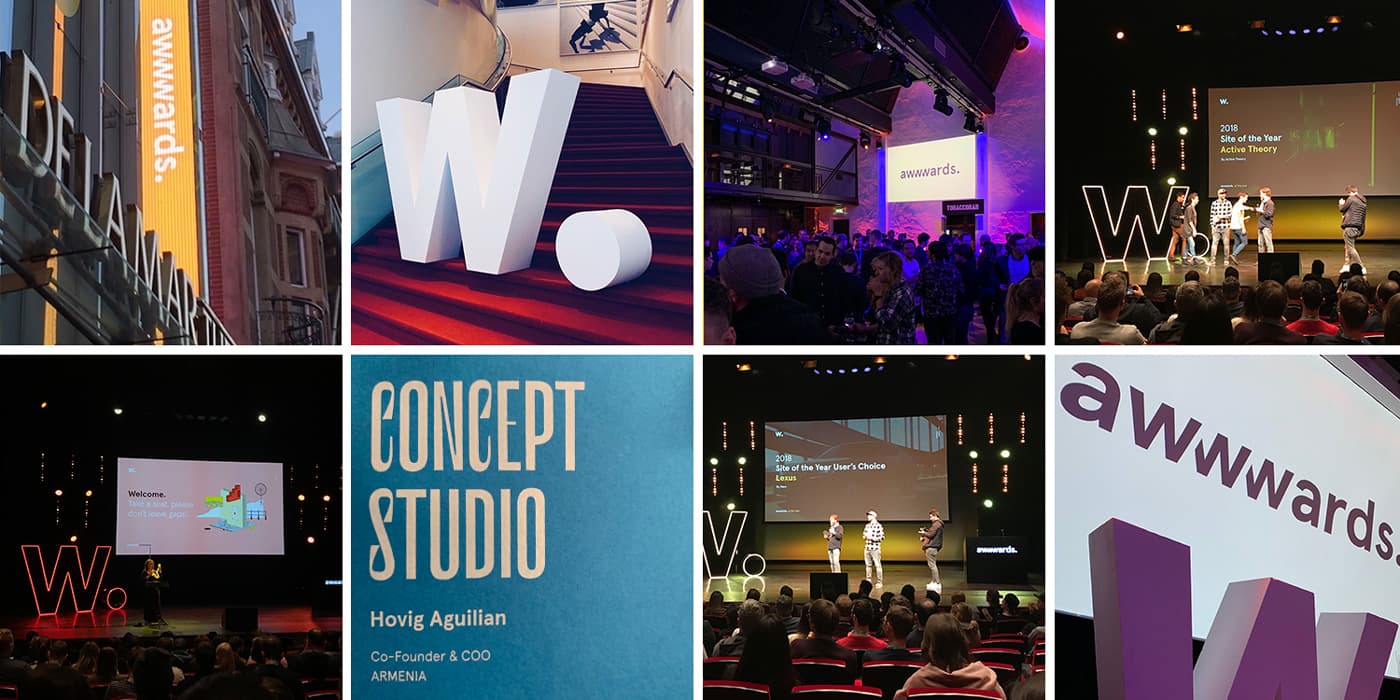 AWWWARDS 2019: life lessons both on and off stage
A month ago, Anginé and I spent two amazing days in Amsterdam for Awwwards - the world's largest digital design award ceremony. Before making our way to the DeLaMar Theater, we jumped at the opportunity to visit the Dutch capital.
First Impressions
Boy! Were are friends not kidding when they insisted the 'Venice of the North' was 'must-see' city. The gingerbread houses, the canals, the museums… all basked in omnipresent pungent smell which fills the air… you know the one. As web designers, we tend to convince ourselves that our trials and tribulations are unique. Standing in that theatre hall, surrounded by designers and creatives from across the world made us feel, for the first time, that we're not alone. Anginé reminds me that I literally blurted out "FINALLY, people who sing the same songs and speak the same language!"
With our passes around our necks and our lattes in our left hands, we sat down for a full day of inspiration. As the speakers walked onto the stage, we got a good glimpse of what unites us all as creative types.
We were dazzled by Pablo Stanley's talk on design efficiency; laughed at Amy West's humorous recounting of a decade's worth of design thinking. Anrick Bregman's innovative ideas on the borders between the real and virtual worlds blew us away.
Impact
Among the most inspiring speeches we attended were "Creative magic" by Pete Smart, and - Daan Klaver. Smart really lived up to his last name. We were truly taken aback by his firm's new app for Royal Bahamas cruises. Klaver's talk on how UX is UI, while UI is UX made so much sense that we couldn't believe this wasn't obvious before! Perhaps the most refreshing thing is that most of the speakers were of our generation. They remember what it was to design with the user experience in mind way before the new generation began using buzzwords like UX/UI. I enjoyed reminiscing about the 'dark days' of web design when we struggled to create user interfaces that worked for real humans when the tools didn't exist. The new guys have it easy!
When the awards were being handed out on the last day, we learned what empathy means in the design world. We cheered with the winners, we encouraged the others. Our pains, our sufferings and even our victories were everyone's to share.
The Social
You can't have a conference without a wild social; and there is no where better to party down than Amsterdam. We met up for drinks with old friends and made new friends at Adyen's Sky-bar on the first night, and said our drunken goodbyes at TOBACCO Theatre less than 24 hours later.
Final thoughts
Our weekend in Amsterdam gave me a lot to think about; a lot to take home to Armenia. Watching entire teams - not just the founders - rejoice for their awards drove home the importance of teamwork for success. Concept Studio would never be where it is now without the input of every team-member, from the business developer to our janitor. Some times, we let our egos take us too far and forget those who got us there. I can't wait for the day where I'll follow my team up on that stage to accept one of our own awards.
Awwwards took place in Amsterdam, because that city is a global hub for digital design. This year, we were the only Armenian studio in the theatre. Here's to the day when Yerevan will eclipse the city on the Amstel river as a global creative nerve centre.