A radical solution for a world-leading crowdfunding company: The Inside
The Crowdfunding Formula is an award-winning digital marketing agency that transforms ingenious projects into a global business. For their web design and strategy, they turned to us, Concept Studio. We have worked together on a myriad of other projects in the past. We had an impressive interview with TCF after the project was completed, to find out the intriguing and exciting details of their experience with us. Besides sharing their answers, our team also wants to give our insides from this exciting collaboration. But let's start from the beginning.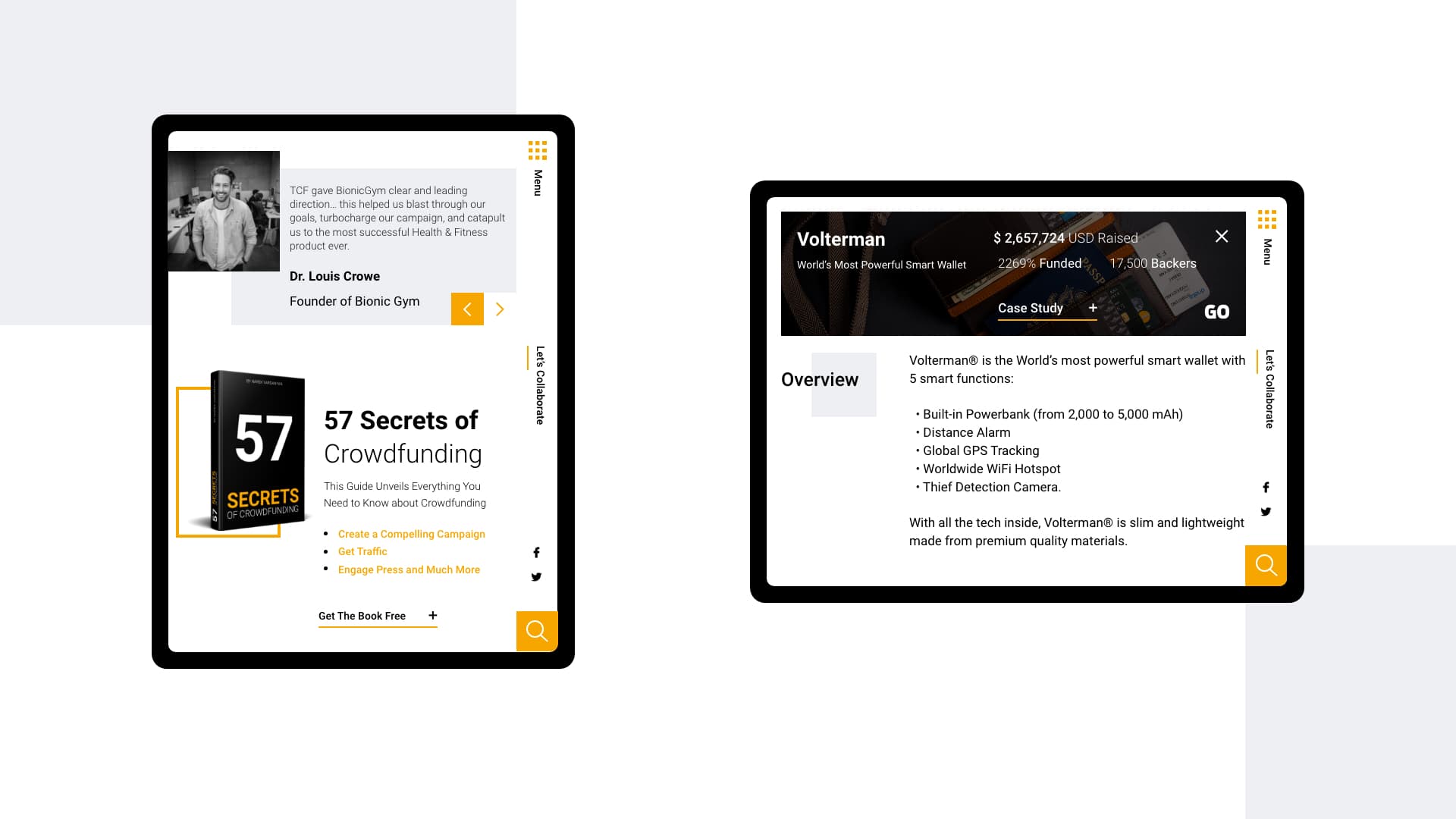 Overview of the companies
The Crowdfunding Formula has raised more money and awareness than the vast majority of its competitors. They contribute their success primarily to the team and dedication. As the founders of TCF mentioned during the interview with us, they don't consider partners as clients but rather as teammates. They take every single campaign as their own, and they dedicate 100% of their energy and resources so that their products reach global success and become a champion brand. The way they describe their company in three words is "Million Dollar Campaigns".
Concept Studio has been around since 2012. Our agency's standing philosophy is the pursuit of self-improvement. This drive affects every aspect of our work, like the quality of our product, management of the project, and the final results delivered to our clients. In order to uphold our strict standards, we, indeed, make a point of only taking on a limited number of projects each year. This way, we can make sure that we pour all of our creative juices onto the task at hand, and provide the clients with the products they deserve. We describe our company as "Creativity, Quality, Punctuality".
The challenge
Our challenge was to represent TCF as a company and its approach in the best possible way. Owing to the fact that competition in the crowdfunding sphere is exceptionally high, the main focus was on designing and developing a truly unique and recognisable website to help TCF stand out in a crowd. Providing a competitive advantage for them was our primary goal, presenting them as a leading agency of the industry in a unique and user-friendly manner. One art director, one account manager, two web designers, one back end developer, two front end developers, sought to make it a reality.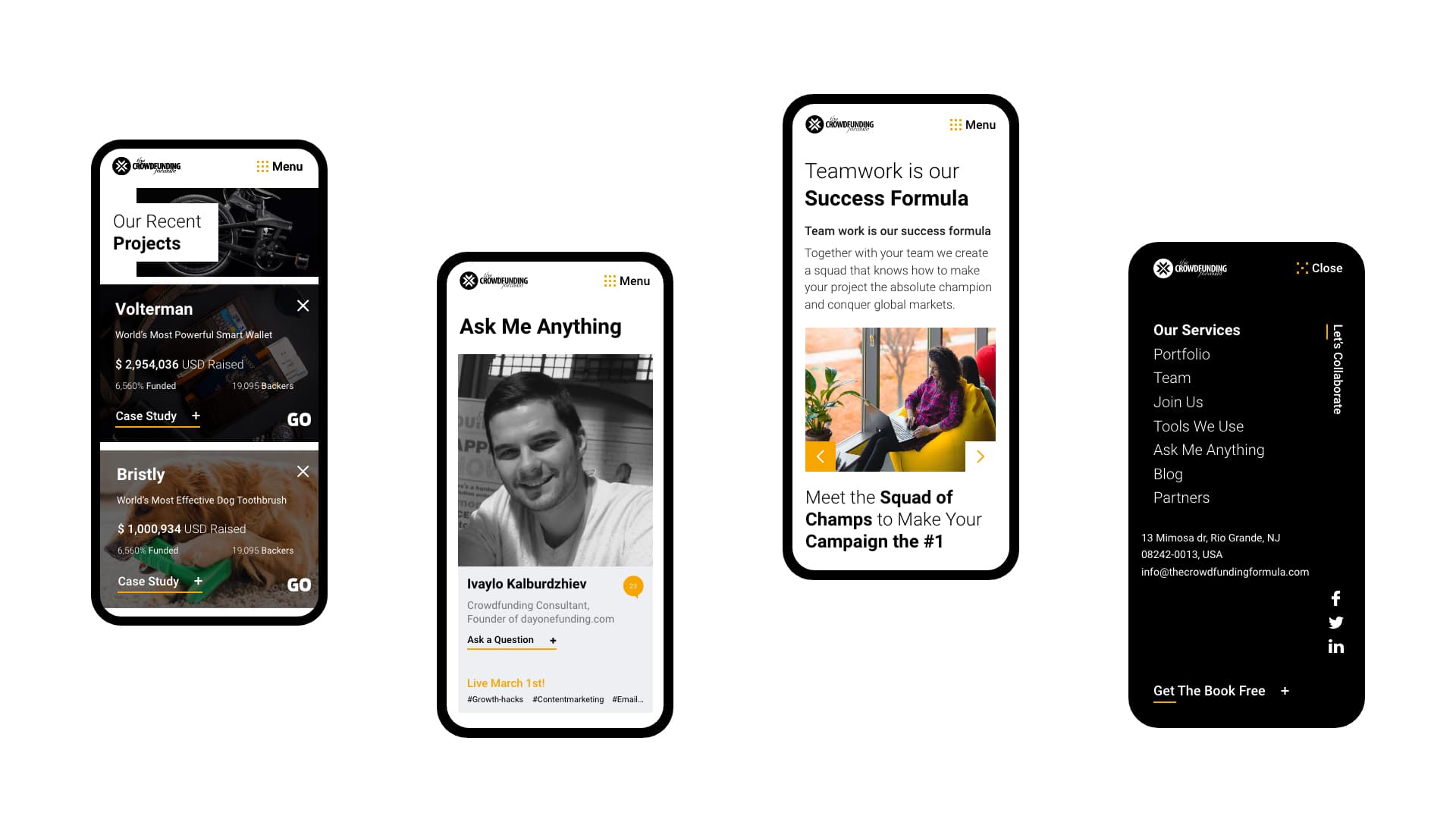 The result
TCF noted a significant increase in their SEO rank as their traffic skyrocketed. Compared to the previous website traffic levels, they are now getting 300% more traffic. This result can be attributed to both the SEO as well as the interactive and user-friendly content of the website.
The interview
Here are some of the thought-provoking answers that TCF gave us during the interview with us. Additionally, we also came up with the idea of answering the same questions to make the discussion even more interesting and unusual.
During your cooperation with Concept Studio, what challenges did you face, and what did we achieve together?
In our field, competition is very tough. Our #1 challenge is to stand out and convey the most important messages that we wanted to underline the importance of our team's input in campaigns success. Based on feedback we totally achieved it.
During your cooperation with the TCF, what challenges did we face, and what did we achieve together? When the TCF team approached us, their main goal was to have a great website reflecting their current positioning as an award-winning digital agency and a global leader in the crowdfunding industry. Moreover, another challenge that we faced was that, although we were working within tight deadlines, the TCF team had its own web designers whose opinions we had to take into account as well. We had long discussions and brainstorming sessions which eventually benefited the whole project tremendously.
Is there anything that you would like to change about your cooperation with Concept Studio?
No. Both we and the Concept Studio team are very flexible and open to feedback and suggestions. If there is an idea that could make everything better, it's easy to discuss and implement.
Is there anything that we would like to change about the cooperation with TCF?
No! Our relationship with the TCF team was extremely productive - we'd happily work with them on future projects.
As an award-winning digital marketing agency that transforms innovative projects into a global business, why did you choose Concept Studio for designing your website?
We had worked with Concept Studio on a number of other projects in the past. Their output and style of work were always beyond our expectations. And as we aim to be #1 in our field, we chose to cooperate with the best.
Did we have any fear or feeling of uncertainty before taking the responsibility of designing a website for an award-winning digital marketing agency? Did we feel pressure for delivering a worthy product for a company that has taken its operations to a global market?
Absolutely! Our main ambition was to design a uniquely creative website which would visually distinguish TCF from its competitors while still meeting our delivery deadline. Of course, we always treat every web design project with the sort of professionalism, care and attention to detail that makes us proud to put our name on, but in this case we knew that the TCF team was planning on unveiling it to partners at CES 2019, and so the site needed to shine. The site's success is also partially attributable to the TCF team itself, since they worked side-by-side with us and provided all the support we needed to complete it the way we did.
In your opinion, how are the TCF and the Concept Studio aligned with regards to mission, strategy, culture, etc?
We share many of the same values. Having worked together on many other projects, we realized Concept Studio's similar ambition and drive to turn every project they work on into the best possible results.
In our opinion, how are the Concept Studio and TCF aligned with regards to mission, strategy, culture, etc.? In our experience working with TCF, we've discovered another team of Armenia-based creative industry professionals whose values include attention to detail, inspiration, and entrepreneurial drive. These are values that we share, and it's probably why we work so well together.